We get a lot of questions about data management. And it makes sense—your data contains your agency's entire book of business. Keeping data clean, organized, up-to-date and accessible is absolutely critical to your success. In fact, providing Employee Benefits agencies with a superior database is one of the reasons we created Benelinx.
Over and over again, our customers have shared the difficulties they've experienced with data management. Many are still relying on Excel (which is not a database, more on that later), while others are required to use clunky systems built for Commercial Insurance and ineffectively retrofitted for Employee Benefits.
Many Employee Benefits divisions store data in separate silos, leading to lots of duplicate entries, manual data management and disconnected systems. Here's what a typical agency management landscape looks like.
Table 1. Typical Agency Management Landscape
Unlike other solutions, Benelinx is integrated, meaning your data is stored in a secure, centralized database. Our clients agree—hands down, Benelinx offers the best data management available for Employee Benefits agencies.
How can we be so confident? Because our platform is powered by Salesforce, the world's leading CRM that's used by over 150,000 companies worldwide. How does it work? Salesforce manages your data and Benelinx functions as its design architect. When you purchase Benelinx, you are also purchasing the Salesforce database. 
You probably associate Salesforce with lead and sales management, but did you know it has one of the most advanced databases on the market? Today we're doing a deep dive into data management to share why Salesforce (and Benelinx) are best in class.
Table 2. Benelinx/Salesforce Agency Management Landscape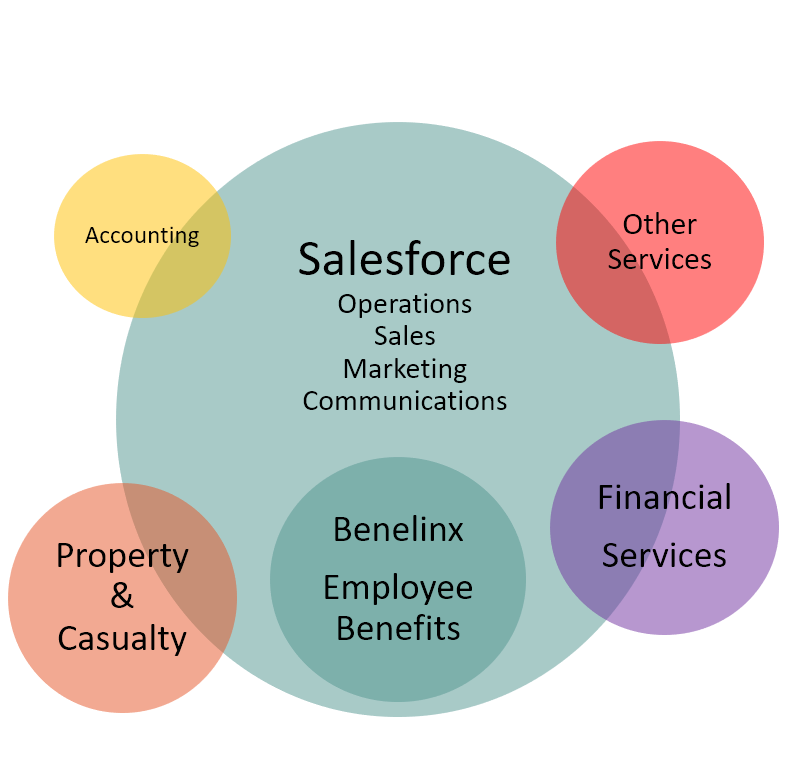 What is a database?
A database should ensure that data can be organized, managed and manipulated. To do this, databases leverage tables and rows in a structured system, similar to what you've likely seen in Excel.
But Excel isn't a database. It's a spreadsheet. Not only do databases help structure and organize data via tables, they also store large amounts of data for multiple users. If you tried to open a 1GB Excel file, you would probably be sitting at your computer forever. Databases don't use Excel's cell-based storage system and they load data fast.
How does Salesforce's database work?
Here's the really important thing to understand. In traditional databases, information is related within the context of the database itself. In other words, rows are related to columns. This works within the context of a single table, but what if you need multiple tables to share data with each other? For that, you will need a relational database like Salesforce.
Like traditional databases, relational databases have rows and columns. But, each row has a unique identifier or key that defines that row. Each table also has a unique key. So, you can use that unique key to link to other tables. 
This creates a massive web of tables that are all interrelated, giving you the ability to track, measure, and utilize customer data. To accurately track and handle all of this customer data, you need a database that's fast, secure and complex enough to relate important data points together seamlessly. Which is exactly what Salesforce's database provides.
Here's an example of a traditional data model versus Salesforce's relational data model.
Table 3. Traditional Database vs. Salesforce Database
Privacy & Security
Relational databases are important, but the most critical component of data management is security. Salesforce uses a variety of methods to ensure that your data is safe, secure, and available only to registered users in your organization. 
Table 4: Salesforce: A Leader in Privacy & Security
Key Takeaways
Excel is a spreadsheet, not a database

—

a true database is capable of managing large amounts of data and can support multiple users.

Unlike traditional databases, Salesforce uses a relational data model which interrelates different Objects, giving you the ability to effectively track, measure, and utilize client data.
For a relational database to function properly, it must be fast, secure and complex enough to relate important data points together seamlessly. Salesforce is recognized as a global leader for these capabilities.
The right database means you can accomplish more with less. Benelinx has harnessed the power of Salesforce's database and customized it for Employee Benefits to significantly boost your team productivity, keep your data clean, organized and accessible, and provide the necessary tools to grow your business.
Ready to make a change?
Benelinx combines Salesforce's cutting-edge database management with design architecture built specifically for Employee Benefits. With Benelinx, you get custom Objects and software engineered workflows embedded in our safe and secure platform. 
All this is available at a reasonable price, with plans starting at $95/mo. Use our ROI calculator to find out what your first year of Benelinx will cost, and how to recoup on your investment. 
Don't wait, contact us today to ensure you're ready for open enrollment 2022! Sign up for a personalized demo or contact Sales at 888-227-1602.